The ultimate solution for a flexible, versatile workspace. Moveable glass walls are a stylish addition to any space and create a smooth transition from open-plan to private, without ever compromising on natural light.
Benefits of Moving Glass Walls
There are so many benefits of incorporating moving glass walls into your workplace:
Flexibility
Sliding or folding glass walls are great for small spaces as they give the option of creating one large open-plan space or two separate areas. This is ideal for offices where open-plan working is the norm but at times a private room is needed for meetings/team projects or appraisals.
As well as suiting small spaces, moveable glass is also great for businesses that are expanding but want to stay in their current premises, adding a sliding wall creates a separate room without committing to a permanent split within your office.
For large spaces such as halls and conference rooms, sliding glass walls are an excellent addition as they give the flexibility to reduce or increase capacity. In education, for example, when teaching a smaller class it is helpful to divide a conference room/lecture theatre in order to improve acoustics and make it easier for students to concentrate.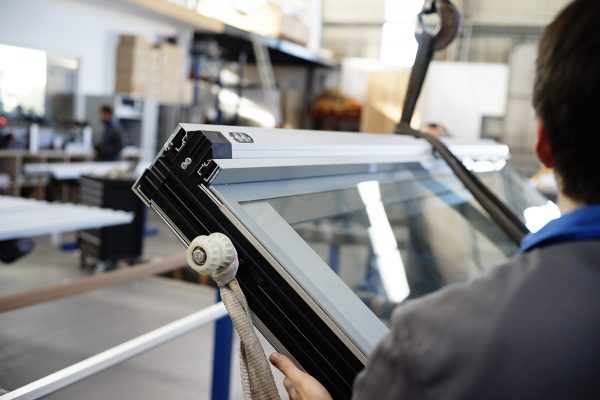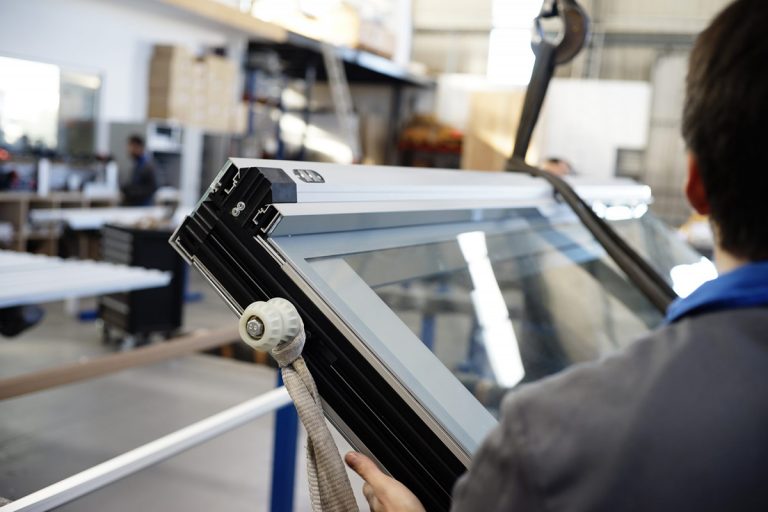 Acoustics
With folding glass walls providing acoustic insulation up to 45dB and operable sliding walls insulating up to 54dB, privacy, when the walls are closed, is guaranteed. The acoustic performance of a room is very important as not only is excess noise detrimental to productivity, it is also important that voices can be heard easily without having to strain. Having a moving glass wall that can divide a space will help reduce sound attenuation when a small group of people are having a meeting, keeping this private from the rest of the workspace.
Design
Glass partitioning is a great way to create a modern and sleek look within your workplace whilst harnessing natural light and maintaining an open-plan design. Moveable glass walls provide all of these benefits whilst maintaining flexibility without committing to a permanent wall.
Types of Moving Glass Walls
So, which type of moving glass wall suits your needs?
Folding Glass Walls
If you are looking to install moveable glass partitions but you have no suitable structure in place to suspend the glass from, then folding glass partitions are the perfect solution. Folding glass partitions can be installed as a 'bottom rolling' option with a low profile floor track. For that all-important acoustic performance when shut, folding glass walls are installed with multiple fixed rubber sweep seals. These seals mean that the folding glass can offer acoustic insulation up to 45dB.
Folding glass walls can also be 'top hung' rather than 'bottom rolling' and are available with virtually any surface finish. Our folding glass doors are suitable for applications up to 3600mm high and are available in panel widths from 600mm – 850mm. A communicating door panel is supplied as standard and each panel can be 70mm or 100mm thick.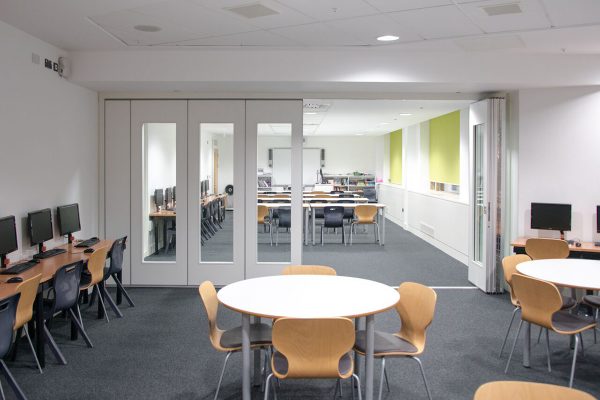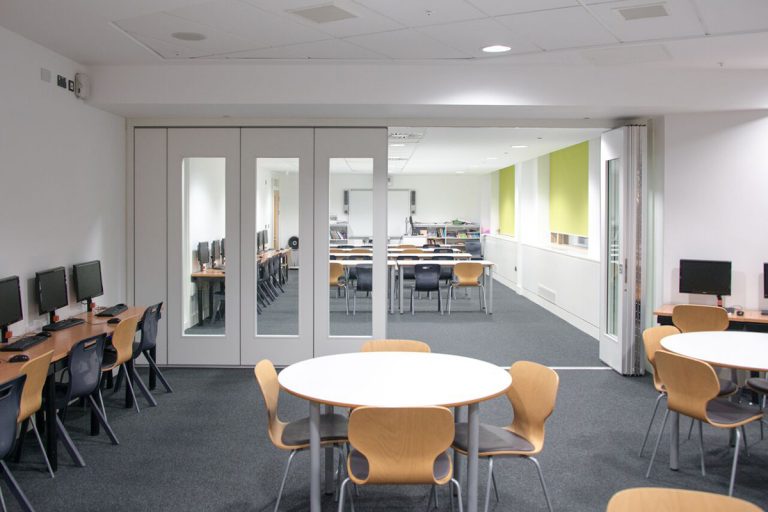 Glazed Moveable Walls
If you are looking for that wow factor and a seamless sliding wall then glazed moveable walls are ideal for more high specification applications. Glazed moveable walls offer excellent flexibility due to the numerous stacking arrangements available, the aluminium frame is available in a range of colours to suit any design. The panel seals on our glazed sliding walls are operated semi-automatically and move effortlessly along an aluminium head track, when closed they form a secure, fixed wall. These operable glazed walls also provide acoustic ratings up to 54dB which makes them an excellent option for offices, schools, conference rooms, and hotels.
Panels can feature a hinged door for access when the wall is closed and our moveable walls are suitable for applications up to 3600mm high. 840mm – 1300mm panel widths help to create a more seamless finish.
Solid Moving Walls
As well as Glass moveable walls we are also able to supply and fit solid moving walls in materials such as vinyl and wood. These walls are available as folding or sliding walls and there is a huge range of colour and design options to choose from. For more information on our solid moveable partitions then please do not hesitate to get in touch.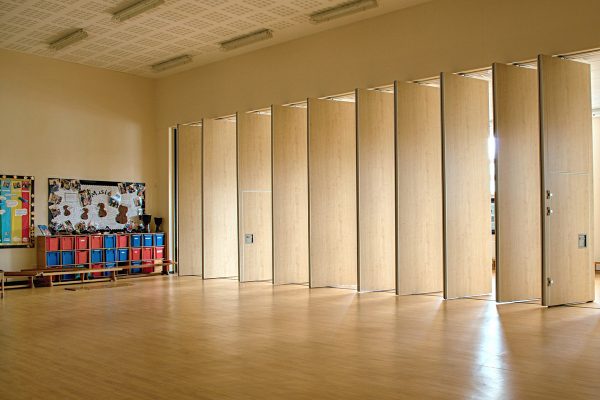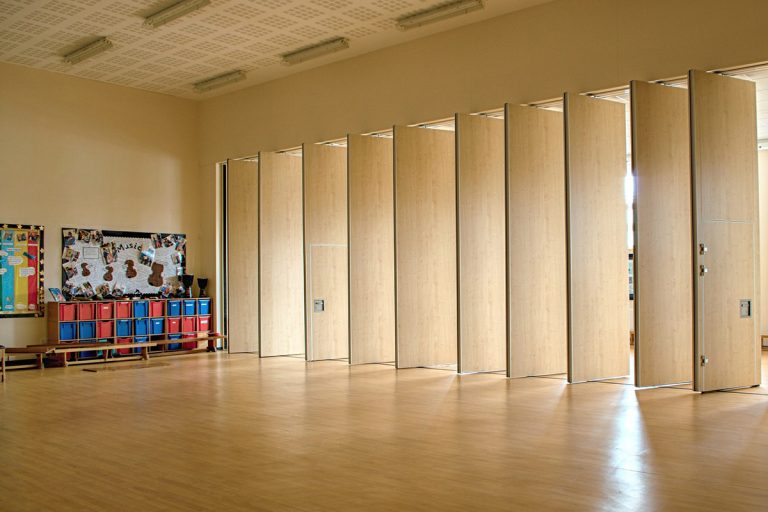 Moving Glass From GPUK
At Glass Partitioning UK we love creating amazing designs for workplaces that improve productivity and help businesses grow. Our moveable glass options allow endless flexibility and add that all-important wow factor.
We have over 20 years of experience designing and installing glass partitions all over London and the surrounding areas. We can provide moving glass partitions for all applications from schools to offices and retail environments. If you are looking for a flexible glass solution for your workplace then please get in touch with our friendly team today.