Modern businesses are constantly changing and evolving, and as a result, your workspace most-likely will too. We understand that from time to time you'll recruit new staff, change your office layout or seek a new tenancy. Our demountable glass partitions are the perfect solution as they are easy to install or relocate.
How are Demountable Glass Partitions different?
Demountable glass partitions come with the same excellent choice of module options as permanent partitions do. The main difference is how the glass partitions are fitted to floors, ceilings and walls. Unlike a permanent partition, a demountable solution uses an aluminium framework that is both easy to install and remove and doesn't damage interior features in the process.
What are the key benefits of Demountable Glass Partitions?
Versatility
A demountable office partition system gives you complete control of your changing workspace requirements. Making it perfect for changes in staffing or short tenancy agreements.
Rapid, fuss-free installation
Demountable glass partitions can be assembled quickly because our framework arrives onsite pre-finished. This means our dedicated team of fitters, with over 25 years of experience, can carry out the work with limited disruption to your business.
Low-cost
Why buy a brand-new partition system if you can just update your existing one? A demountable system gives you the freedom to make savings by moving or rearranging your existing layout. You can also take it with you if you decide to move premises.
Potential Tax Savings
Under Section 23: List C of the Capital Allowances Act 2001, movable partitions qualify as Plant and Machinery, meaning you could claim capital allowances against tax. We suggest you always seek legal advice to ensure your demountable glass partitions fall in line with these terms.
Flexible module options
This system still grants you a comprehensive range of customisable module options; including single or double-glazed windows, doors and solid panels. Many of these features are customisable; see the full range of options below.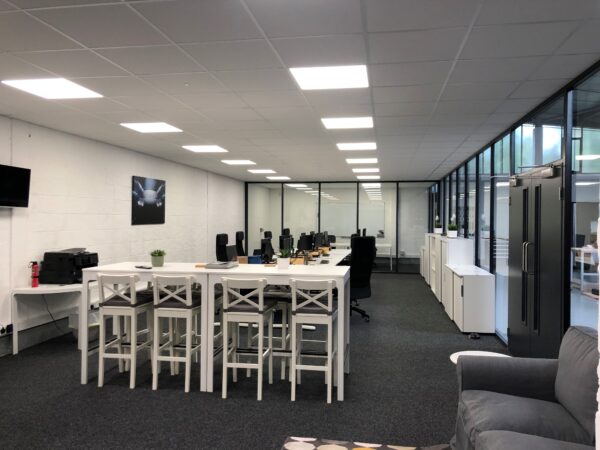 What module options do you offer?
We offer a comprehensive selection of modules to suit different requirements. If you're after more privacy in a boardroom, for example, then you can opt for integral blinds or solid panels. Or, if you're looking to increase productivity, then vitalise your workspace with full-height, glazed panels. These allow plenty of natural light into a workspace without compromising on sound absorption or insulation.
Are these customizable?
Absolutely. Our demountable glass modules are available in a great choice of styles and finishes. Take a look for yourself:
Frame finishes
The framework for the glazed partition system comes in three standard finishes;
Satin Anodised Aluminium
White
Pale Grey
Wall Coverings
You also have the option to decorate the 'solid' plasterboard modules. These can be painted or covered with our specially designed wall coverings for fast installation. There are over 40 standard finishes available ranging from Magnolia to Burnt Orange. Please get in touch with us to see our full set of sample finishes.
Doors
We have a fantastic selection of veneer doors to choose from. The demountable glass system typically suits a solid core type door, with the most popular size being 1981 x 838 x 44mm. The most popular veneer finishes are as follows;
Vision Panels
To complement our extensive door range, we also offer a superb selection of vision panels to suit your requirements;
Skirting
The 100mm laminate-finished skirting sections are available in three finishes – black, grey and white.
Glazing service with optional Venetian blinds
The glass is available on a supply only or supply and fit basis. The supply and fit service includes a full survey followed by a return visit to fit the glass.The blinds can be added to the system for additional privacy with either a control wand (single glazed) or control knob (double glazed). You can also customise the 'slat' finishes on our blinds.
For more information take a look at our Demountable Glass Partitioning Flyer.