The nature of modern businesses is always changing and evolving, and as a result, your workspace most likely will too. From time to time, you'll need to recruit new staff, upgrade your office interiors or even seek a new tenancy. Our demountable glass office partitions are the perfect solution as they are easy to install or relocate.
How are Demountable Glass Partitions Different?
The main difference between our demountable partitions and our more standard single glazed and double glazed alternatives is the installation method we use. Whilst demountable glass partitioning is available with the same excellent choice of module options, unlike permanent partitions, they use an aluminium framework that is both easy to install and remove – without damaging any interior features in the process.
Unlike more permanent glass partitions, these relocatable glass walls offer potential tax savings. Under Section 32: List C of the Capital Allowances Act 2001, temporary partitions such as our demountable options are recognised as Plant and Machinery, meaning your business could claim capital allowances against tax. Please note, we always suggest you seek legal advice to ensure your demountable glass partitions fall in line with these terms.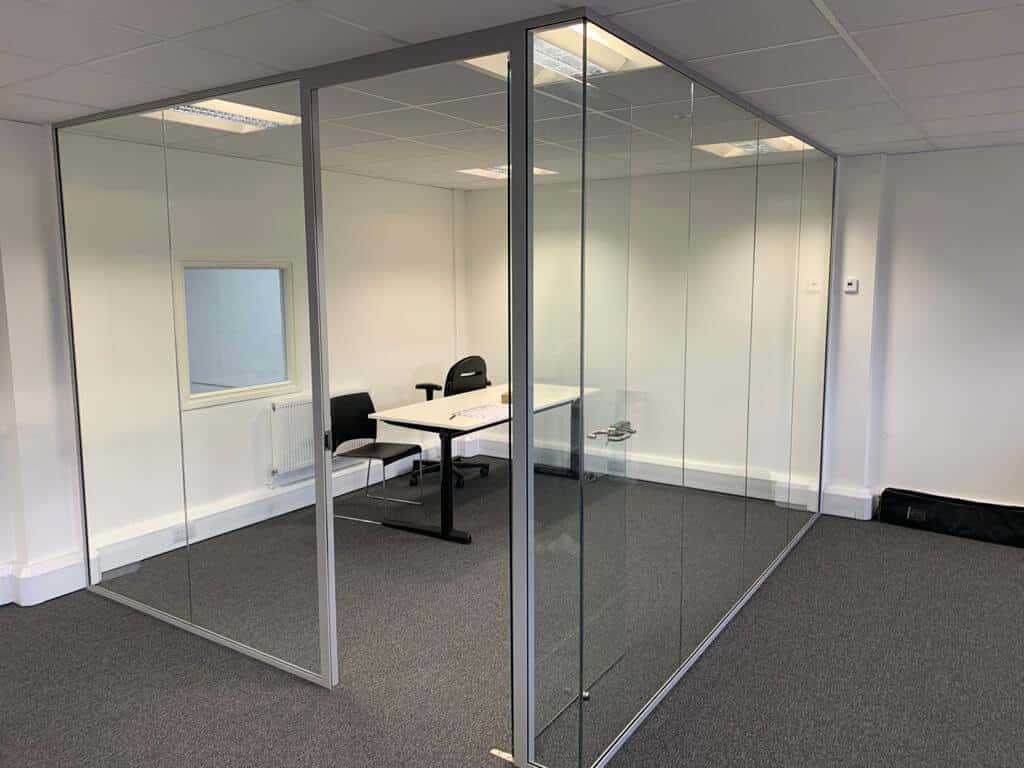 The Important Details
Demountable partition wall systems offer the same high quality and modern style as permanent glass walls, with the ability to easily install and uninstall systems to suit your business's needs. Other key details include:
This system grants you a comprehensive range of customisable options, including single or double glazed windows, frame finishes, wall coverings, vision panels, skirting and even door option.

The primary design of relocatable glass partitions is the ease of installation. These systems are simple to fit and remove, ready to reposition to suit the ever-changing business world.

Demountable glass walls could help save you money as they can be taken with you and reused wherever you move, however the additional potential tax savings they offer means they're a great investment for flexible businesses.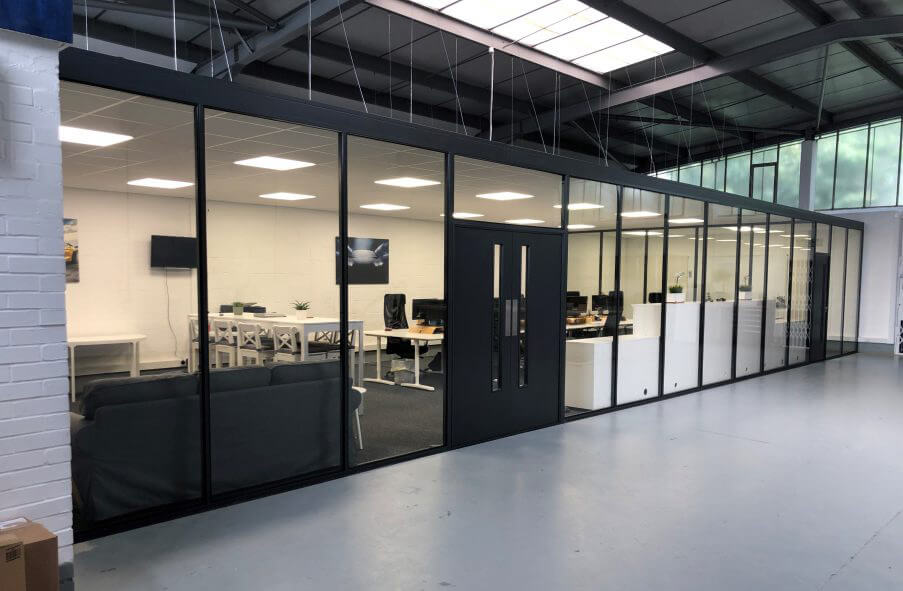 Benefits of Demountable Glass Partitioning
Versatility
A demountable office partition system gives you complete control of your changing workspace requirements. This makes it perfect for changes in staff or short tenancy agreements.
Quick and Easy Installation
Demountable glass walls can be assembled quickly because our framework arrives on site pre-finished. With over 25 years of experience, our team of dedicated fitters can then carry out the installation with little disruption to your business.
Cost Effective
Why buy a brand new glass partitioning system when you can just update your existing one? Demountable partition costs give you the ability to save money by moving or rearranging your existing office layout. You can even take your glass partitioning with you if you decide to move!
Demountable Glass Partitioning Module Options
At Glass Partitioning UK, we offer an extensive selection of partitioning modules, ready to suit your business requirements. If you're looking to increase privacy in your boardroom, opt for integral blinds or solid panels with your demountable partitions. Want to increase productivity in the workplace? Vitalise your office with full-height, glazed glass panels.
Our demountable glass modules are available in a great choice of styles and finishes:
Frame Finishes

– Select from three standard finishes for your glazed partitioning framework; Satin Anodised Aluminium, White or Pale Grey.
Wall Coverings

– We offer the option to decorate solid plasterboard modules. These can be painted or covered with our wall coverings for a quicker installation process. There are over 40 standard finishes available, ranging from Magnolia to Burnt Orange.
Doors

– We also have a wide selection of veneer doors to choose from. We recommend pairing your demountable glass system with a solid core door, with the most popular size being 1981 x 838 x 44mm.
Skirting

– The 100mm laminate finished skirting options for your glass partitions are available in 3 finishes; black, grey or white.
Venetian Blinds

– Blinds can be added to your relocatable glass walls for additional privacy. These can be operated with a control wand (single glazed glass) or a control knob (double glazed glass).
If our demountable glass partitions seem like the perfect fit for your business, contact our experts today. We're always happy to advise on the best system for your workplace, or help you get started with your partitioning project.