Are you a noisy group? Need peace and quiet to concentrate? Is confidentiality essential within your meeting room? Our acoustic glass partitioning will provide the perfect solution. 
As one of our premium products, acoustic glass partitions are dearer in price, however this is reflected in their deliverance of exceptional sound performance wherever applied. Compatible with single glazed, double glazed and banded partitioning options, we offer a range of styles to suit your interior design and acoustic needs.
Why Choose Acoustic Glass?
Whilst single and double glazed glass does provide a level of sound treatment, fixed acoustic glass goes one step further, boasting up to a further 50% noise reduction.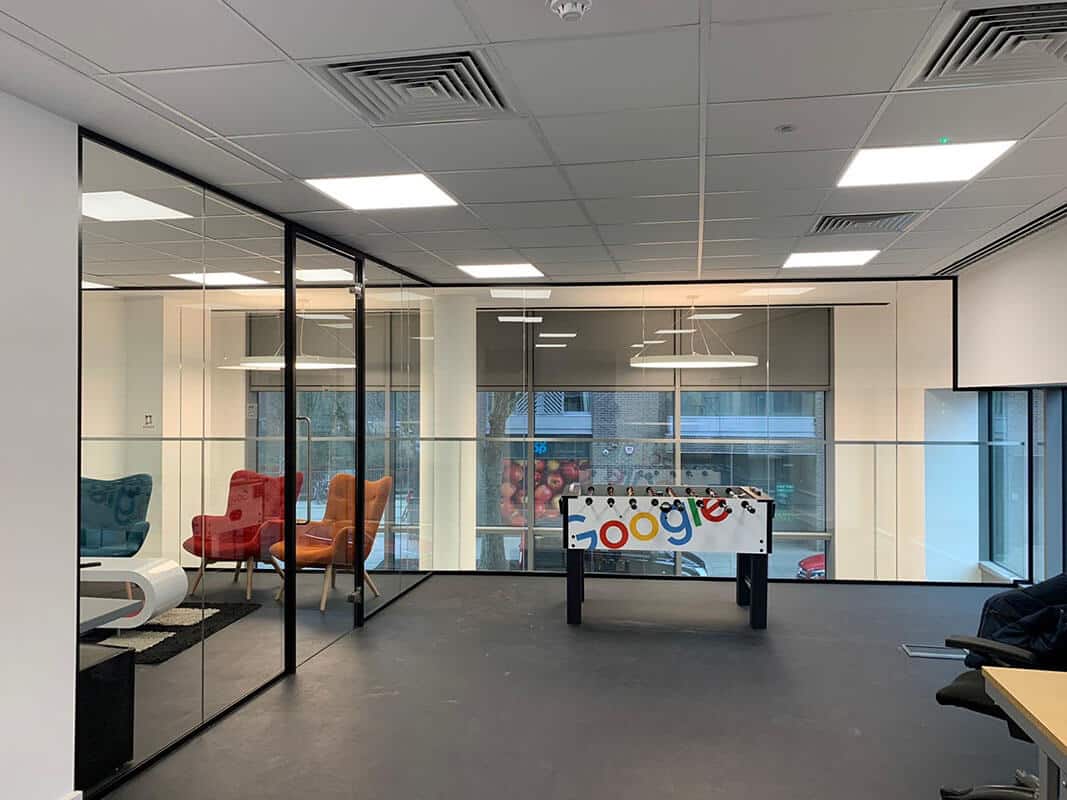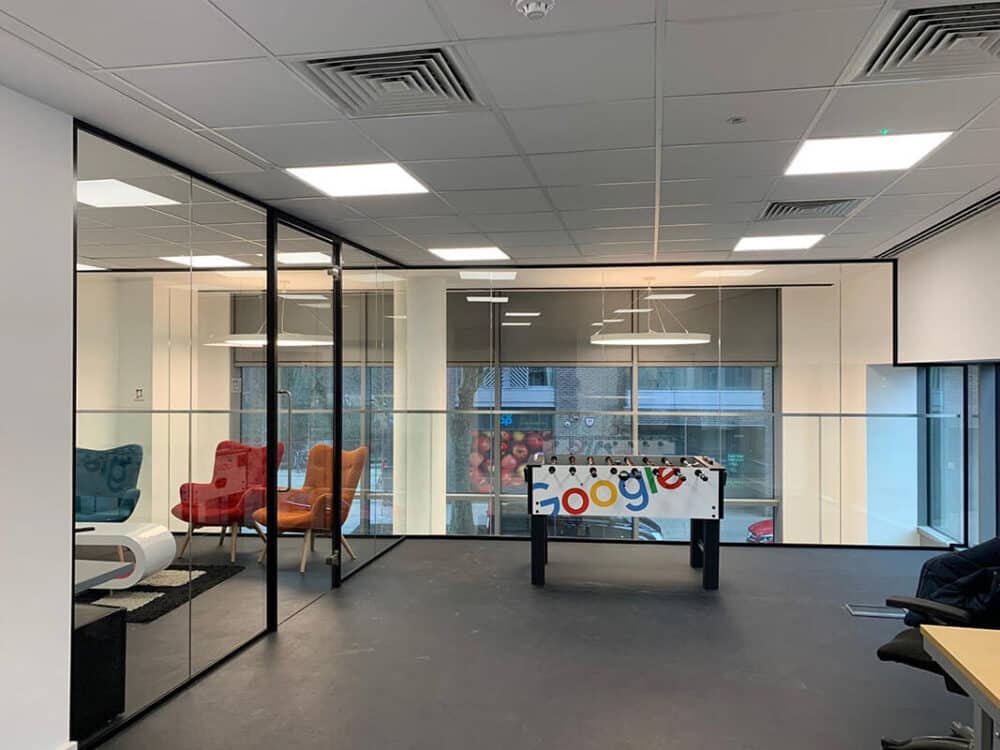 Acoustic glass is a sound solution to form private meeting rooms, focus spaces, patient consultation rooms, surgery walls and more. Whether you need a space for confidential conversations or to contain collaborative sessions, acoustic glass is the perfect partitioning product for you. For more tips on how to add privacy to your glass partitions, check out our blog.
How Does Acoustic Glass Work?
During the manufacturing stage, a thin, clear PVC membrane is bonded to either single or double glazed glass panes. Once installed, this clever acoustic membrane works by absorbing sound energy, as well as preventing any sound vibrations from penetrating the glass. This is how our premium glass achieves its significant noise reduction.
To the untrained eye, acoustic glass partitioning will appear no different to our other frameless partitions. The clear layer of laminated is housed within the glass to enhance sound performance without compromising visibility.
There is, however, a slight difference in the thickness of glass; the acoustic membrane adds a subtle 0.8mm to the overall thickness (for example, single glazed acoustic glass partitioning will be 10.8mm thick and double glazed acoustic glass partitioning 12.8mm thick). Barely noticeably, the clean and clear glass appearance is still achieved – just with the benefits of the highest sound quality.
The Important Details
Whilst you won't be able to achieve 100% sound insulation, there are a few features of our acoustic glass partitioning that help to provide the very best sound performance.
Acoustic glass partitioning is compatible with either single glazed or double glazed glass, depending on your required acoustic ratings. Fixed single glazed acoustic glass will provide sound protection of up to 37dB

, whereas

double glazed acoustic glass offers 46-50dB

.

The acoustic membrane adds a subtle 0.8mm thickness to its glazed equivalents.

To add privacy to your space, we recommend pairing your acoustic glass partitions with double glazed doors and drop seals. Two different thicknesses of acoustic double glazed partitioning (e.g. 10.8mm and 12.8mm) will help to achieve maximum sound protection.
Acoustics Guide
| | | | |
| --- | --- | --- | --- |
| Glass Types | Db Rating | What This Means | Application |
| Level 1: Single Glazed | Up to 33dB | Normal speech can be interpreted. | Open areas and offices with little need for acoustic benefits. |
| Level 2: Single Glazed Acoustic | Up to 37dB | Loud speech might be heard. Normal speech is heard, but hard to interpret. | Standard offices and meeting rooms. |
| Level 3: Double Glazed Safety Toughened | Up to 40dB | Loud speech can be heard, but hard to interpret. Normal speech is barely heard. | Meeting rooms and private areas. |
| Level 4: Double Glazed Acoustic | Up to 46dB | Loud and normal speech can't be heard. | Boardrooms and highly confidential areas. |
| Level 5: Ultimate Acoustic Package | Up to 50dB | Extremely loud speech can't be heard. | Highly confidential areas. |
To compare the noise quality of our acoustic glass partitions to our other products, please see our Acoustics Guide or our Acoustic Advice.
Acoustic Glass Doors
Doors will always be a weak point when attempting to contain sound within a room, but let's face it – we would be lost without them! As the experts, we have a few additional features we recommend to help reduce the level of noise that can be lost through the door.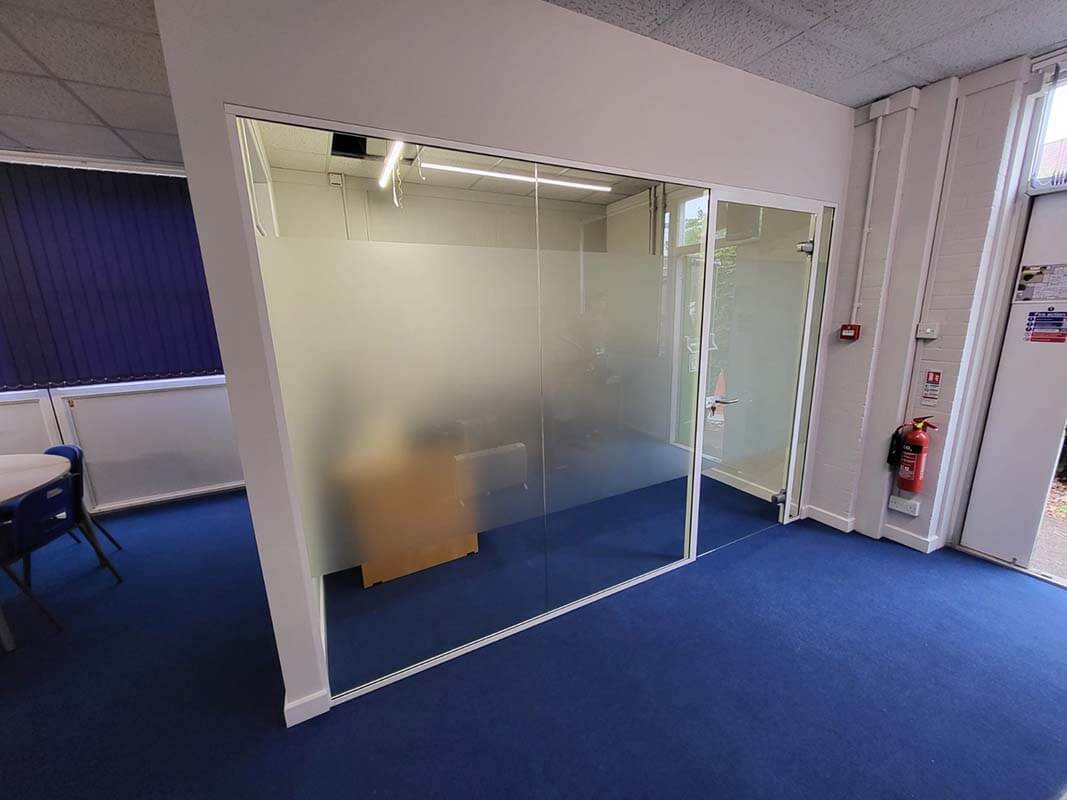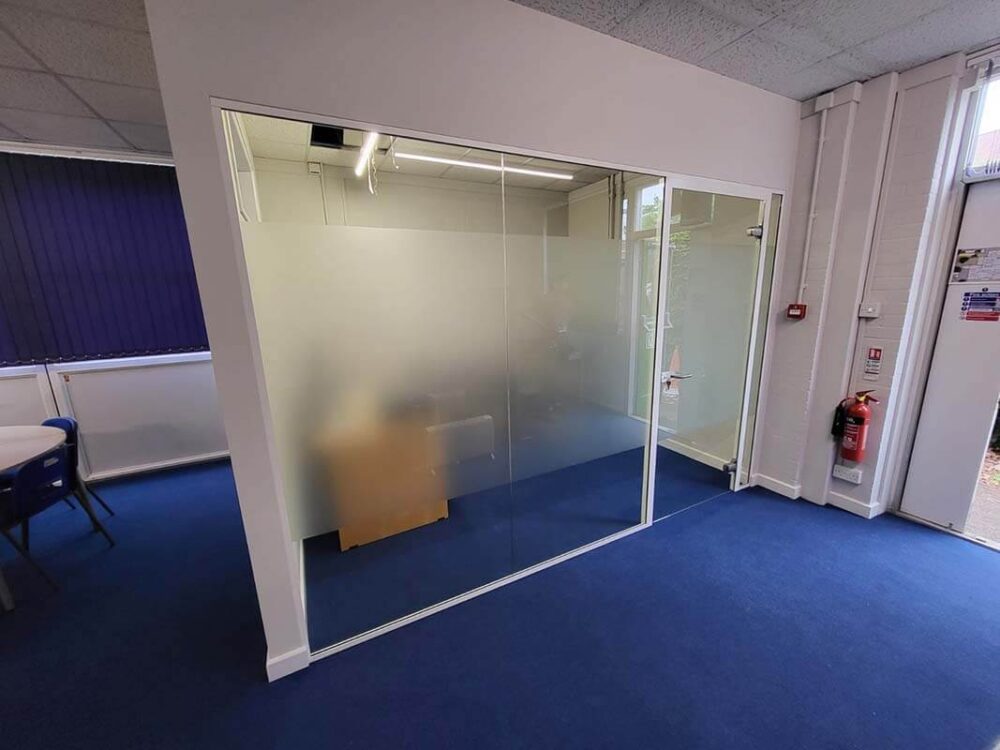 Choosing our acoustic glass doors will ensure you have an entrance that is made from the same high quality materials as your acoustic glass panes – that all important acoustic membrane. We also highly recommend pairing this with an aluminium frame and drop seals to prevent sound escaping through the door joints.
Need some help? Contact our team of experts for more acoustic advice today, or read our FAQs to find the answers to your questions.