Whilst some workplaces require higher levels of confidentiality than others, there's no arguing that private spaces are paramount within nearly every successful work environment. In particular, private rooms can provide a place for confidential meetings, contain collaborative sessions and form focus spaces where work can be completed with minimal disruptions.
Glass partitioning is a great solution to form these needed work spaces, however, businesses may feel apprehensive about investing in them due to the misconceived level of privacy they provide; sometimes, it can feel like there's nowhere to hide.
In fact, with our vast selection of available glass partitioning, we are proud to offer private glass partitioning solutions that won't compromise on performance or style. From cutting edge designs to advanced glass technology, here are a few of our top tips to add privacy to your glass partitions.
Glass Manifestations
Glass manifestations are a legal requirement for certain glass partitions for health and safety reasons. If your partitions require these glass graphics, we generally recommend incorporating company branding to inspire staff or finding a pattern that can make your new space unique.
Glass manifestations, however, also be styled to offer full or partial visual privacy to a room. Specific designs of glass manifestations can shield visual access into a space, whilst still allowing a healthy flow of natural light in. Depending on your requirements, we suggested a frosted band for partial privacy or a full frosted effect for complete privacy. These private glass partitions are perfect for dentists, offices, healthcare environments and more!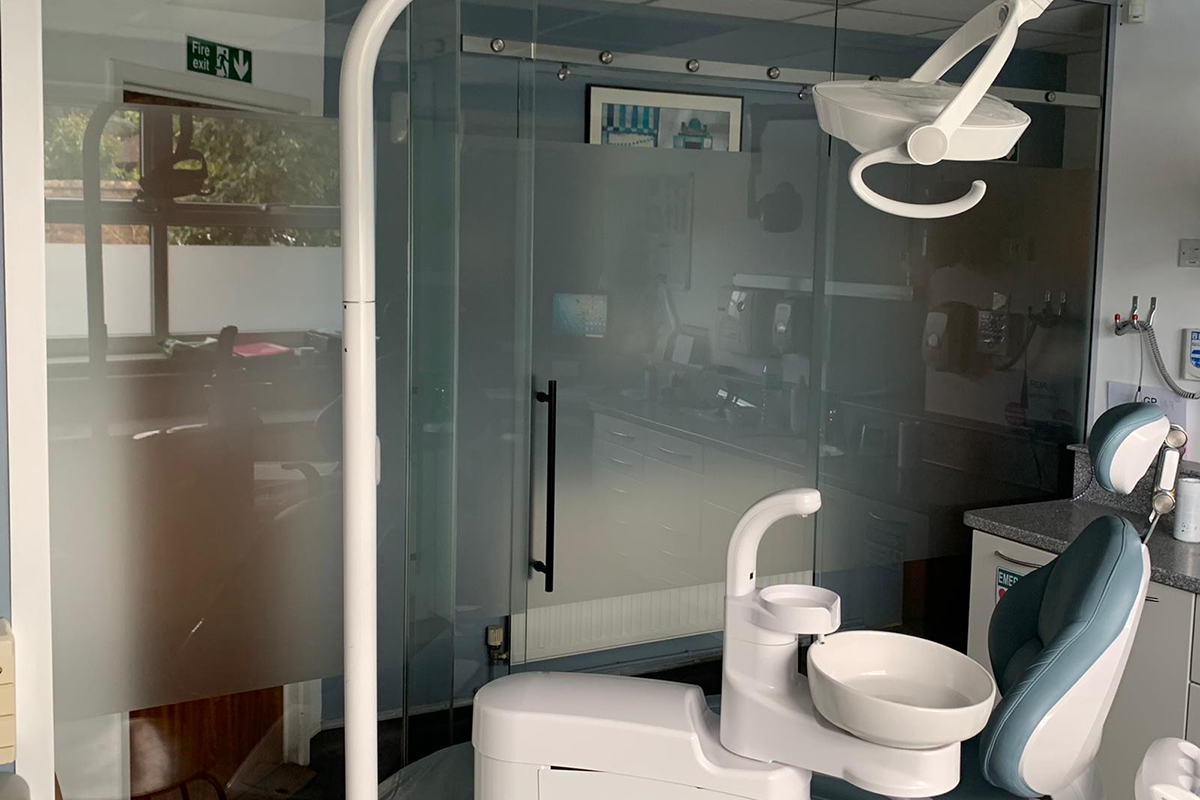 Check out some of our projects that use glass manifestations for privacy:
Reeded Glass Partitioning
Similarly to glass manifestations, reeded glass partitioning can provide additional visual privacy to a workplace. The distorted design of the glass removes a transparent element of the glass partitions and conceals those behind the stylish office dividers.
The reeded style is a popular private glass partitioning solution, offering a retro appearance wherever applied and completed with industrial framed banding. For a more affordable option, we can also provide a reeded glass 'film' or manifestation that grants a similar effect and privacy levels.
We installed reeded glass partitioning into our client's reception area to provide their staff with protection and minimise disruption from the adjacent main staircase. Discover more here.
Switchable Glass Partitioning
For more dynamic workplaces that support various working methods, let us introduce you to switchable glass partitioning. This advanced glass solution allows businesses to experience the best of both worlds at the touch of a button.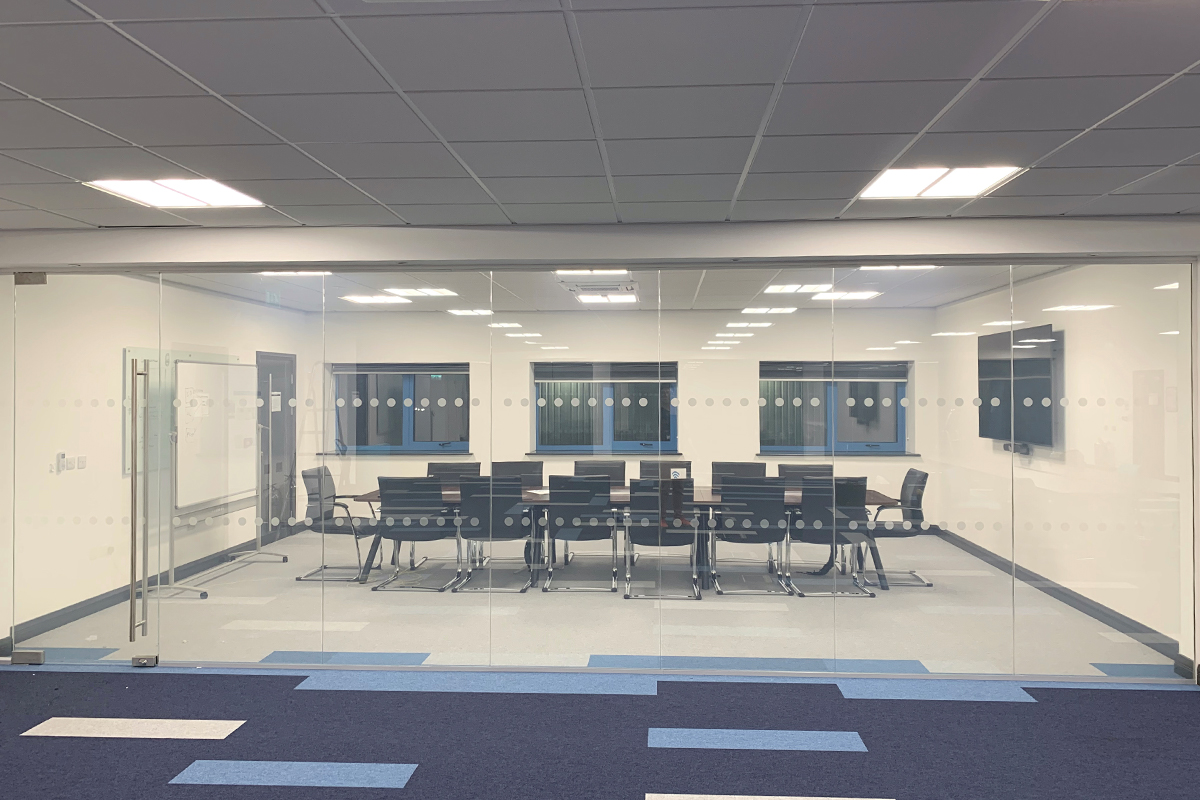 Also known as smart glass, the partitioning system uses a remote control to switch between clear and opaque settings. The glass partitions consist of many different layers, including one made up of liquid crystal molecules. When switched on, these molecules align to make the glass panes transparent, forming an open space where light can pass through. When switched off, the crystals unalign to form an opaque surface where light is blocked and privacy is given.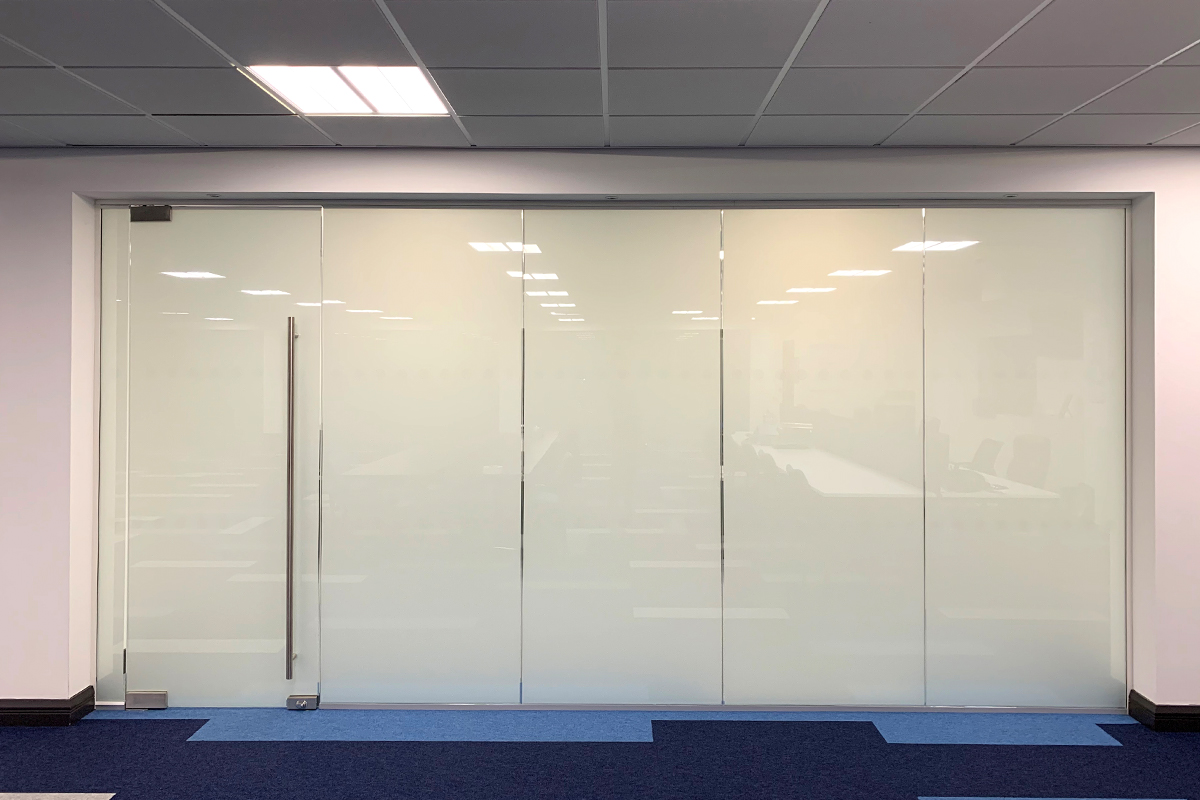 This private glass partitioning solution is a smart system that is particularly popular in offices to impress visitors; the opaque setting can also provide a great surface to project video meetings and presentations onto! It's also popular in hospitals where surgeons can switch between private operations and student viewings, as well as featuring in domestic environments.
Acoustic Glass Partitioning
Alongside visual privacy, acoustics play an important role in a large number of workplaces. As a premium option, we offer acoustic glass partitioning to divide the perfect soundproof space. Depending on the level of privacy required, the acoustic glass is compatible with both single and double glazed glass options, each providing their own respective sound protection (acoustic single glazed glass providing 37dB acoustic ratings and acoustic double glazed glass up to 50dB).
Acoustic glass partitions add privacy by using an acoustic membrane that's bonded to the glass counterparts, preventing noise from penetrating through the panes. Once installed, the volume of noise able to transfer from room to room is reduced, keeping private meetings private and containing collaborative sessions.
View some of our projects to see acoustic glass partitioning in situ:
How We Can Help
Who said glass partitioning can't offer privacy? As industry experts, we are able to advise the best solutions for your private glass partitioning that's tailored to your workplace and budget. Simply get in touch today to discuss your options further.