At Glass Partitioning UK, we supply a selection of glass doors to complement your partitioning. From seamless options to enhanced safety, we have solutions to meet your project needs. We can also supply manifestations, which are the perfect way to incorporate company branding into your design.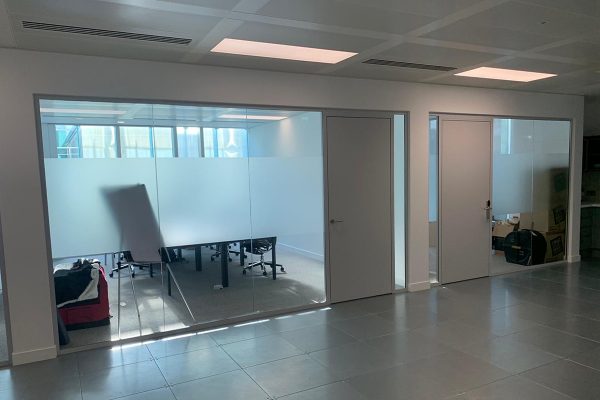 Frameless Glass Door 
Glass Doors are a stylish and elegant solution which can help you achieve a modern office aesthetic while maximising light flow. Our frameless options are made of a single glazed sheet of glass which sits flush to the glass partitioning, achieving a sleek and seamless effect. While single glazing isn't designed for acoustic control, it still provides some sound protection (up to 33dB). If acoustic control is a priority in your workplace, we stock double glazed framed doors which can help you achieve this. 
Framed Glass Door
Our Framed Glass Doors are identical to the frameless option, but that glass is housed in an aluminium frame. This not only increases acoustic levels, but offers an alternative style, complimenting a more industrial aesthetic. Though single glazed is the thinnest glass option, our doors boast strength, avoiding flex or distortion. If you are looking for ultimate acoustic control, see our double glazed and acoustic glass options. 
Double Glazed Framed Door
Double Glazed Framed Doors achieve the same modern aesthetic as single glazed glass but deliver superior acoustic performance. Double Glazed Framed doors are made up of two layers of glass with an aluminium frame border. Ideal for meeting rooms and busy offices, double glazed doors not only maintain acoustic control, but enhance the performance of the surrounding partitioning.
Sliding Glass Door
Sliding Glass Doors are perfect for environments which require space saving solutions, or simply a sleek alternative to a hinged door. These can either be top hung, or hung from the 3/4 position. If the ceiling is not strong enough to hold a top hung door, the 3/4 hung mechanism can be used as the weight of the door is held on the panels, and therefore through the floor.
Fire Rated Glass Door
Occasionally your glass will need to correspond with requisite fire ratings. This applies to the door as well as glass partitioning. While many glass partitioning systems don't actually need to be structurally fire rated in accordance to UK building regulations, it is still important to always check if in doubt.
The classification of fire rating is split into two sections; fire integrity and fire insulation. 
Fire Integrity is the ability of the glass to act as a barrier and stop the progress of the fire, smoke and toxic gases. Fire Insulation is the ability of the glass to stop heat moving from one side of the door to the other. This will be listed in terms of minutes for integrity and insulation, e.g. 30/30 would be 30 minutes integrity and 30 minutes insulation.
We supply fire rated glass doors that correspond to the full range of legal requirements (see fire safety glass page). Please check with a Building Control Officer (BCO) to confirm the level of fire protection required for your project. 
Timber Doors
At Glass Partitioning UK, we offer Timber Doors which are compatible with our glass partitioning systems. Contrasting natural materials with modern glass is a fantastic way to achieve a contemporary, yet classic, aesthetic. Practically, timber doors also elevate elements of privacy and maintain the acoustics of the surrounding partition. 
Door Extras
We know that the finishing touches can make all the difference. We supply a range of handles, locks, and signage (manifestations) to fulfil your project needs. These can each be added on as required to all doors.
Please be aware: All glass (including doors) will legally require manifestations.