If you're going ahead with a glass partitioning installation, chances are you're going to need a door. At Glass Partitioning UK, we offer a wide selection of glass doors and solid doors, ready to complement your glass walls and business needs.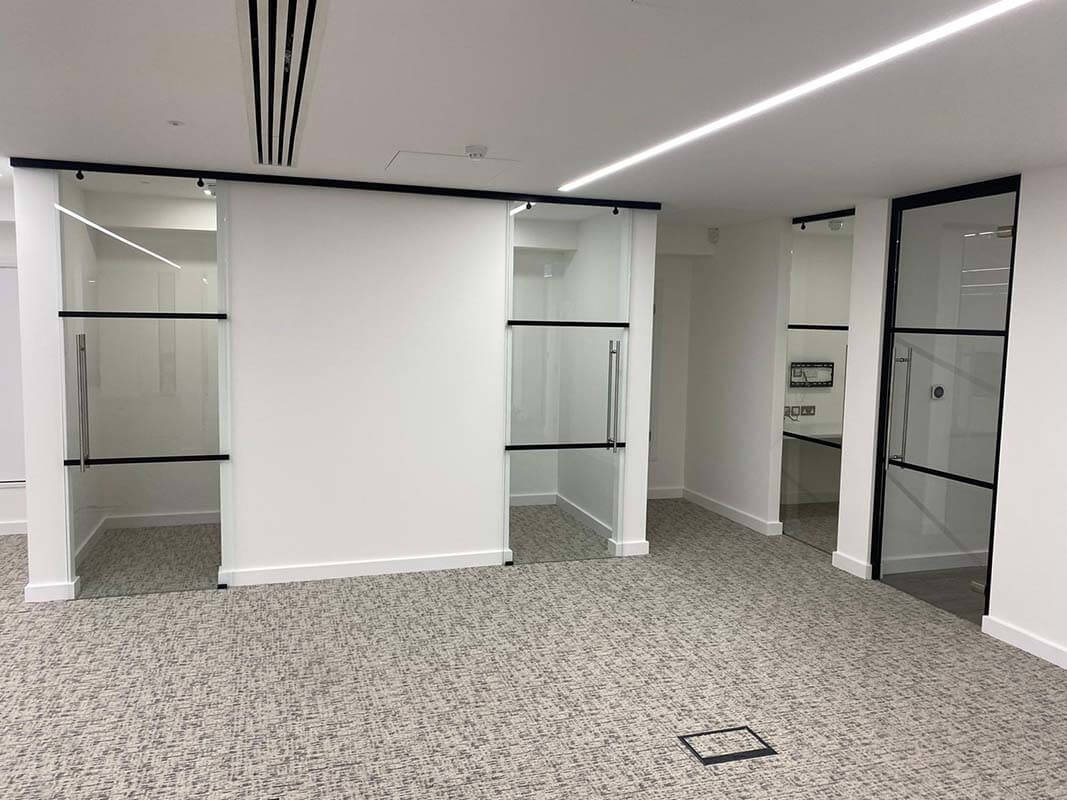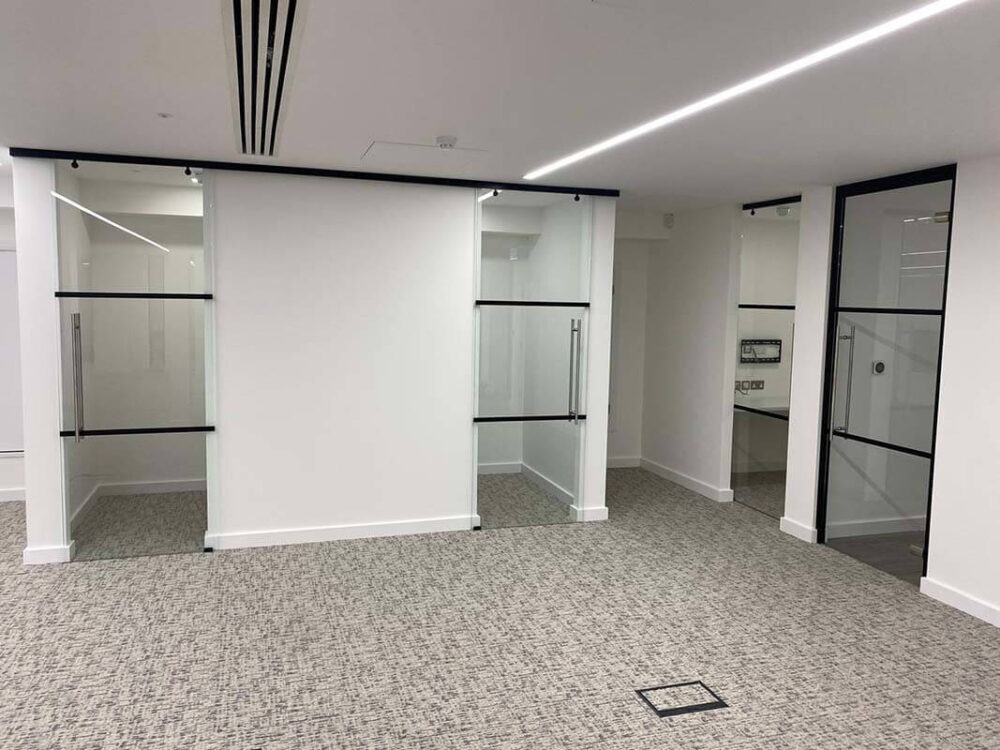 The Important Details
The details of your glass door will vary depending on the system you chose, however there's a few key elements to consider:
When it comes to acoustics, doors are typically a weak point. Think about it – as soon as they're opened, there becomes a space for sound to escape into neighbouring rooms. Whilst we can't promise complete soundproof solutions, we recommend adding drop seals and framework to your glass door to reduce sound transmission.
We're able to fit glass manifestations onto our doors. This is a perfect way to incorporate company branding into your office design.
At GPUK, we offer a variety of door options, from solid to glass – even ironmongery. Don't worry, we only supply options that are compatible with our glass partitions.
For advice on the best door option to suit your space, contact our experts today.
Types of Glass Doors
No matter what system you select, all our glass doors promise elegance that can help you achieve a modern office aesthetic while maximising light flow.
Frameless Glass Doors
Our frameless glass doors are made using a single glazed sheet of glass. During the installation stage, our experienced fitters ensure this sits flush within the glass partitioning for a sleek and seamless effect. Though single glass is the thinnest glazed option we offer, rest assured our glass doors still boast strength and will avoid flex or distortion.
Framed Glass Doors
Once installed, our framed glass doors are almost identical to our frameless alternative – just housed in a neat, aluminium frame. This not only improves acoustic performance, but can achieve an alternative style that's incredibly complementary to the modern/industrial aesthetic. For this reason, we often recommend pairing our framed glass doors with banded glass partitioning.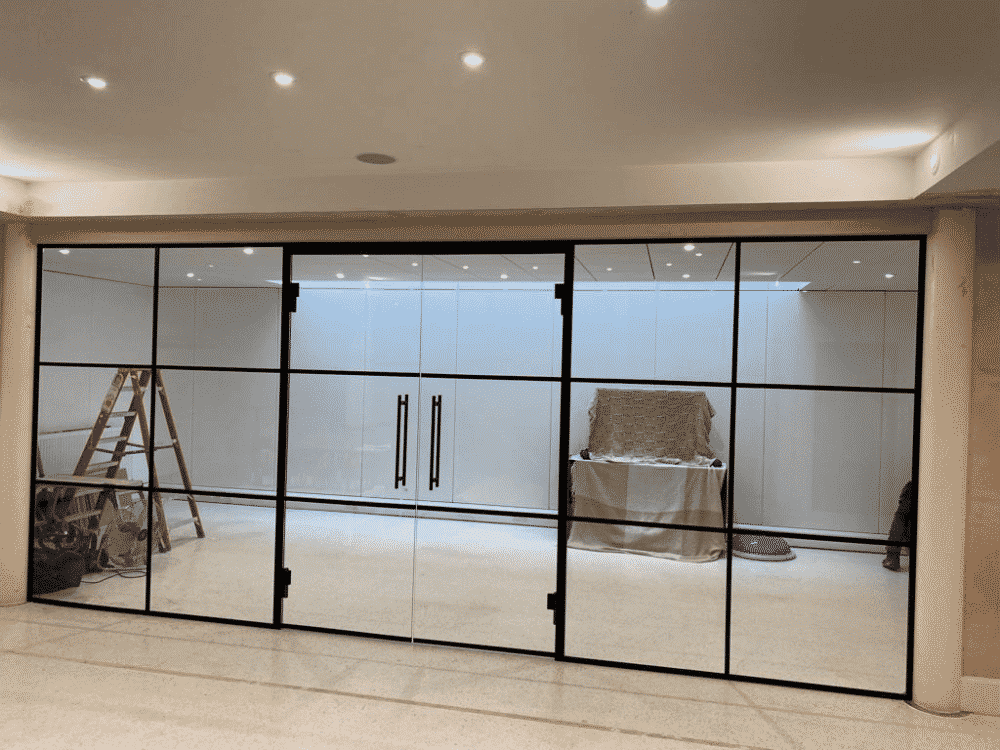 We offer our framed glass doors in both single glazed and double glazed glass, depending on your acoustic and budget requirements. When it comes to double glazed, the two layers of glass are easily housed within the aluminium border.
Sliding Glass Doors
Sliding glass doors are the ideal for work environments looking for space saving solutions or a simple alternative to a hinged door. During installation, we can either fit these as top hung or, if the ceiling is not strong enough, hung from the ¾ position. The ¾ mechanism instead places the weight of the door on the glass panels as well as the floor.
Movable Glass Doors
Unlike sliding glass doors, movable glass doors can be folded up to create an open plan environment or unfolded to divide rooms. They are a great solution for hybrid workspaces that need a flexible door solution to easily transition to suit different styles of work.
Fire Rated Glass Doors
On occasion, your glass door will need to correspond with requisite fire ratings. This may also apply to fire rated glass partitioning. Please note: The final fire requirements will always be unique to your specific building regulations and we always advise our customers to refer to this or check with a Building Control Officer (BCO) to confirm the level of fire protection needed for their project.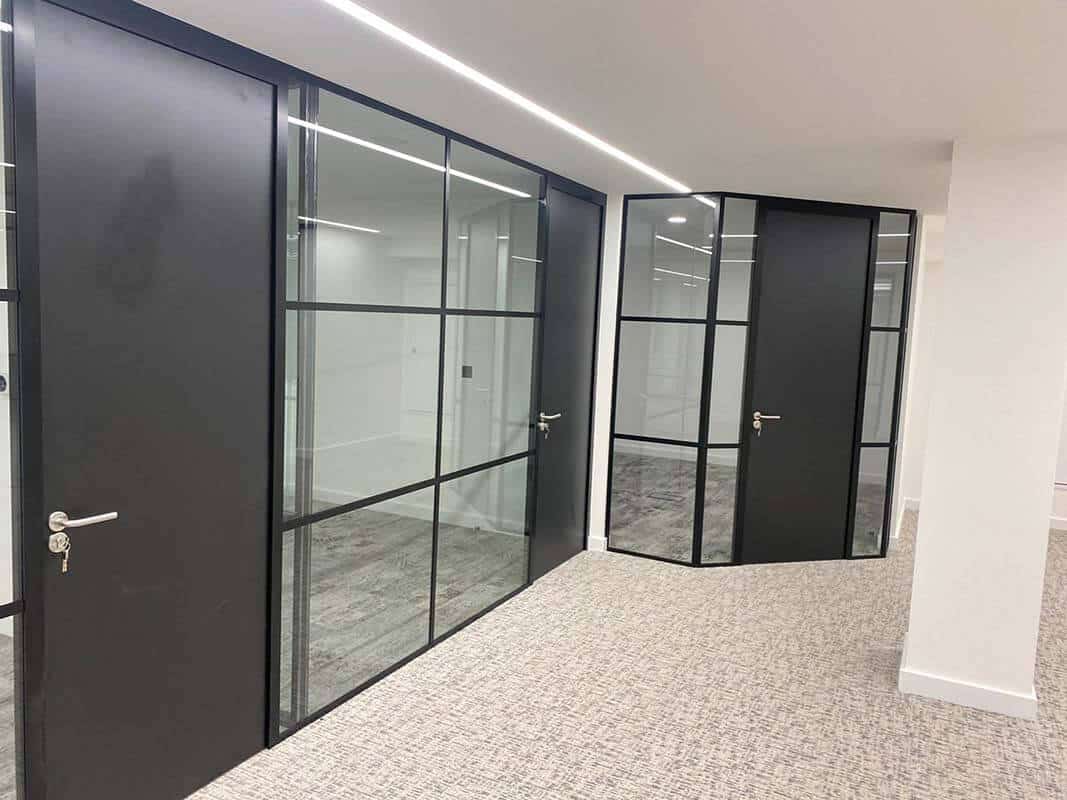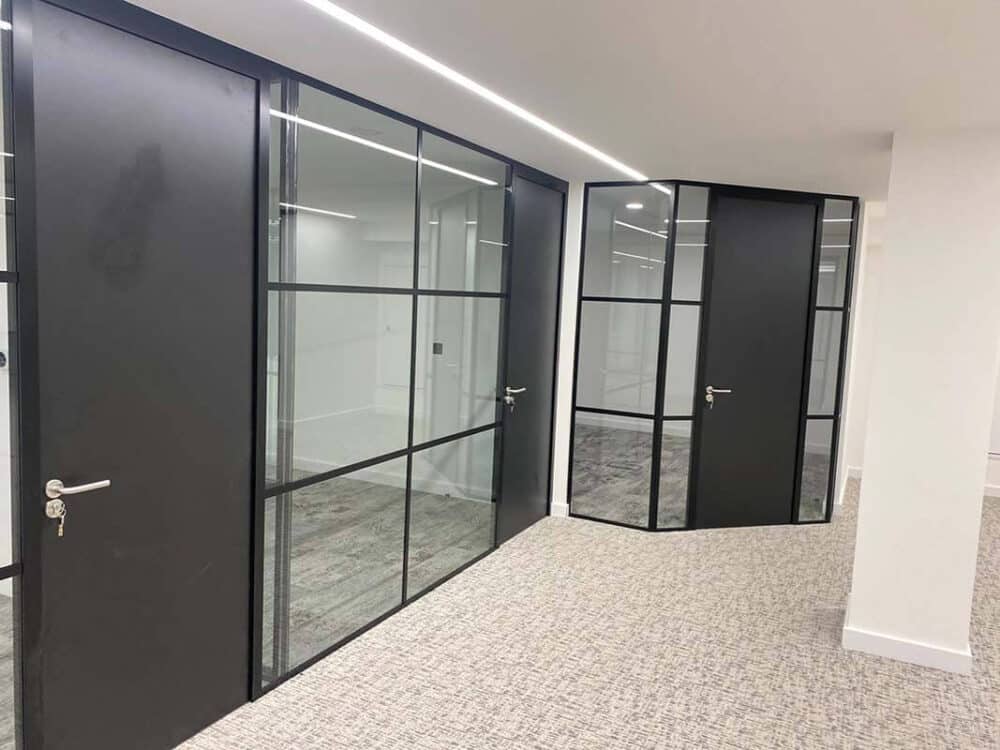 We supply fire rated glass doors that correspond to the full range of legal requirements, covering both fire integrity and fire installation. Please see our fire rated glass partitioning page or contact our experts for more advice on this.
Timber Doors
Yes, you read it right – we offer timber doors that are just as compatible with our glass partitioning systems as our glass alternatives. In fact, we think contrasting natural materials with modern glass is a fantastic way to create a unique workplace, centred around wellness. Practically, our timber doors also elevate elements of privacy and maintain the acoustic of the surrounding partitioning.
Door Ironmongery
At Glass Partitioning UK, we know that the finishing touches can make all the difference. To complete your glass door installation, we supply and fit a wide range of handles, looks and signage (manifestations) to fulfil your project needs. These can each be added on as required to all door types.
For more advice on the best glass door option to suit your glass partitioning wall installation, contact our in-house sales experts today. From construction to aftercare, our glass engineers can ensure your door is fitted correctly and working as best it can.