Have you ever been unable to concentrate on an important project because of colleagues discussing what they had for dinner last night? Or maybe you work in HR and are looking for a space for confidential conversations with employees. Glass partitioning can have a huge influence over the acoustic performance of a room, depending on the glass type most appropriate for your space.
Having high performing acoustic glass partitions can have huge benefits, including increasing productivity levels in the office by creating undisturbed sound havens for your staff to work in peace. For help understanding acoustics in your commercial space, check out our acoustics guide.
Keep conversations within the (glass) walls
Open plan office designs have certainly had their moment in the workplace, popular for their collaborative style and open work environments. With most businesses, however, a meeting room or private space is always needed to hold confidential conversations or meetings. That puts a spanner in those open office design plans, right?
Due to the transparency of glass, our partitioning is a great solution to keep that open design workspace, whilst also dividing up a soundproof space. We recommend using our double glazed glass partitioning for the ultimate sound protection. This glass type provides a level of sound protection that makes normal conversations barely audible and loud talking unlikely to be interpreted.
Did you know that it is also possible to install integrated blinds between the panels of our double glazed glass partitions? This design function means you can divide up a room with not only acoustic privacy, but visual too when the blinds are drawn.
Keep commotion contained
If your busy working environment heavily relies on collaboration, you're probably making quite the racket. This can be uncomfortable for employees in adjacent rooms, or even other businesses if you are situated in a rented office block. You can either live with the glares from neighbouring businesses, or you can look for a solution that prevents noise reverberations travelling from room to room.
Types of glass partitioning have sound insulating qualities that protect other areas of the workplace from being subjected to the creative commotion of collaborative offices. Whilst double glazed partitioning offers some soundproofing qualities, at Glass Partitioning UK, we are able to install an advanced acoustic divider for your workspace. Drum roll please…
Acoustic Glass
Popular amongst music studios and private boardrooms, acoustic glass partitioning is one of our premium products. To the untrained eye, this glass looks no different to other standard glass partitioning, but it can add an extra 50% of noise protection to its single or double glazed counterparts.
To create the ultimate soundproof partitioning, a clear PVB membrane is bonded to the glass panels, adding a subtle increase of thickness but a whole lot of acoustic improvements. Acoustic glass partitioning is one way to create the ultimate soundproof space within your office.
Acoustic Doors
Doors are weak points when it comes to containing sound within a room as they create a break in your partitioning structure where vibrations of sound can escape. As you'll always need a door, there are a few glass door options that can help to reduce the volume of escaped noise.
In particular, our acoustic doors can assist with creating soundproof spaces. Designed with the noise reducing PVB membrane, installing an acoustic door with your partitioning can keep unwanted sounds out of the room and private conversations in. We also recommend frames and seals around your door for spaces where acoustic protection is a top priority. 
Why would you need glass partitioning with a lower acoustic performance?
Although our acoustic glass partitioning is great, the advanced qualities are reflected in the price. In some workspaces where noise isn't a priority, single glazed glass partitioning is a more affordable solution. That's not to mean that this glass type doesn't offer sound protection. In fact, whilst loud conversations can be heard through the glass partitioning, normal speech is difficult to interpret.
More recently, offices have installed single glazed glass partitioning to create safe spaces for staff to work during the pandemic. Glass has been a great way to ensure that employees unable to work from home stay protected behind partitioning, but don't feel enclosed by solid walls. A case study we are proud of is our protective glass installation in a care home. We fitted single glazed glass walls to allow guests to visit their loved ones whilst staying safe. The acoustic level of the glass partitioning was appropriate here to allow conversations take place between residents and their visitors.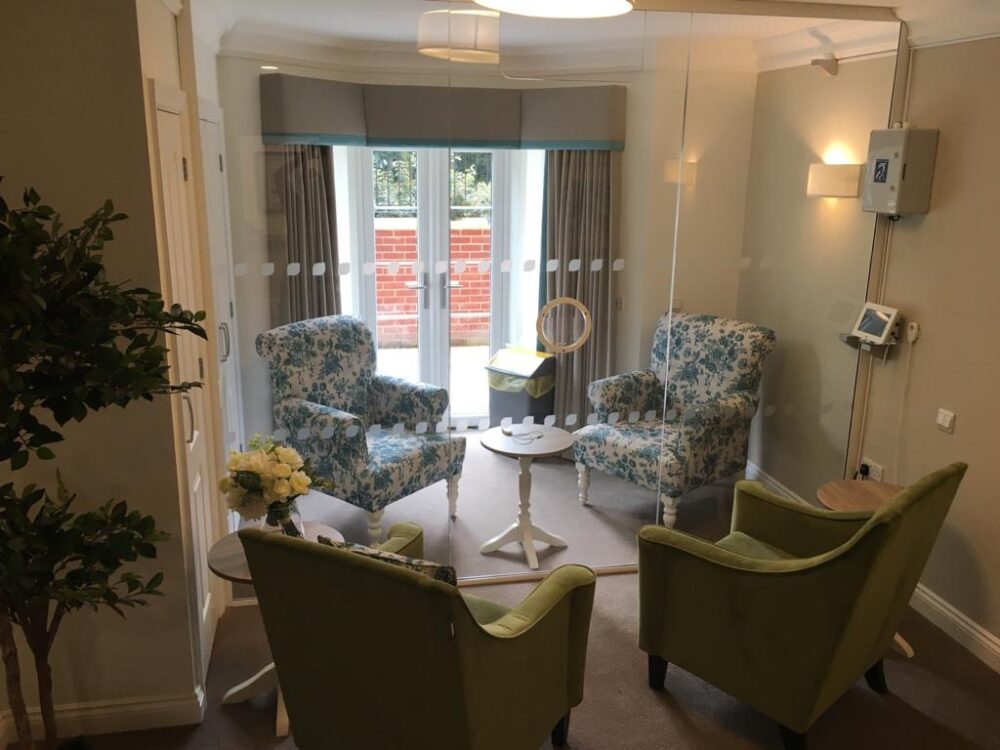 The acoustic performance of your glass partitioning depends on your working environment. If you're unsure about what glass type would be best for your business, get in touch with our team at Glass Partitioning UK to discuss the best soundproof partitioning for you.