Our framed glass partitioning is becoming increasingly popular as the trend for industrial style offices booms. As our newest product, we have already seen a dramatic increase in popularity for this retro look glass in 2019.
This Shoreditch style is particularly favoured by creative, media, marketing and PR offices and any other trendy establishments.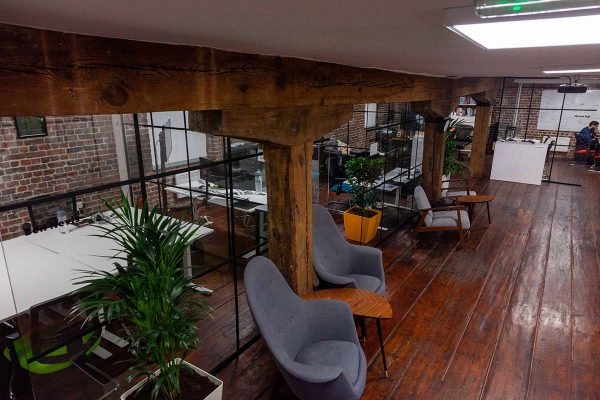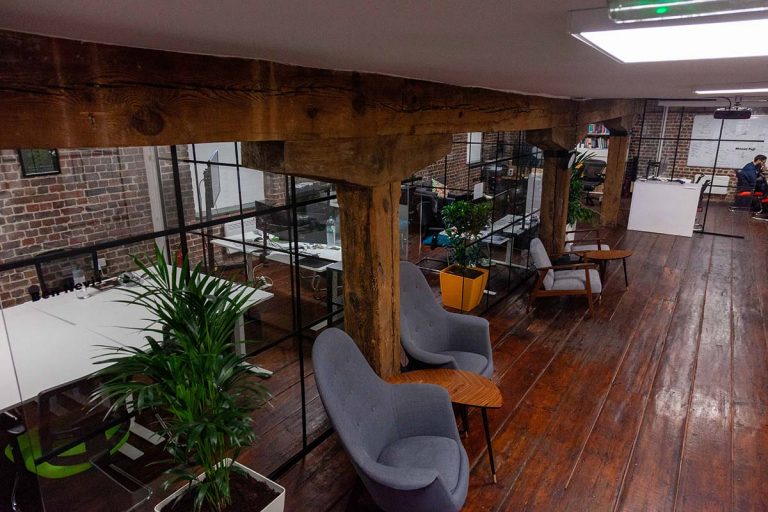 What does banded glass look like?
The banded glass partitioning compliments buildings original features like brickwork; exposed ducts and pipework; timber beams and wooden floors. It provides an art deco, stylish finish.
An aluminium frame runs around the perimeter and UVPC bars intersect the glass, giving a framed finish throughout.
Black is the most popular colour choice for the banding, however other colours are available. Perhaps a slightly softer anthracite grey might better compliment your office surroundings?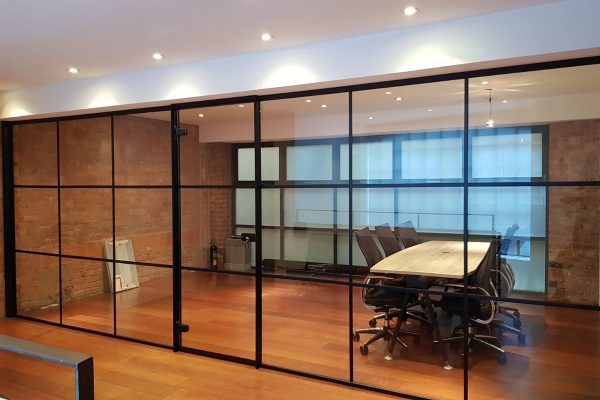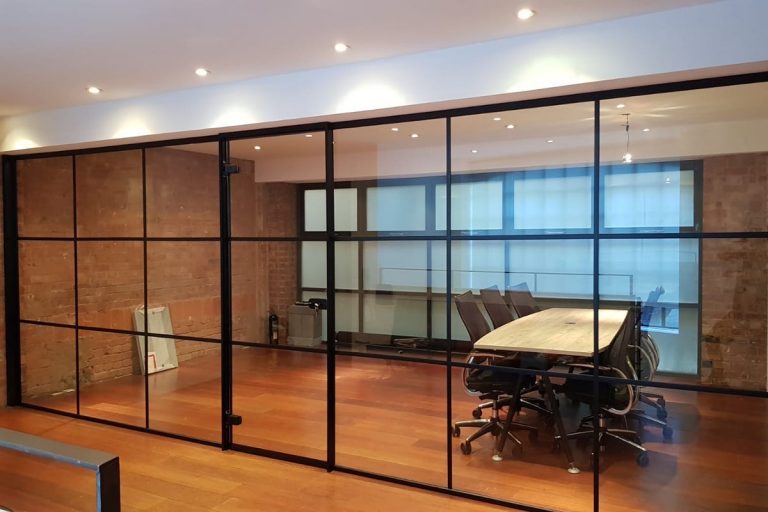 Banded glass installation
Do you have an uneven ceiling with exposed ducts, wiring or timbers? Don't panic, we are used to dealing with such obstacles! A dry wall can be built over the uneven surface to prepare your space ready to receive the glass.
The glass is then installed much like our other products: as one large pane. The finishing touch of the bars is then assembled on top to give the framed finish.
Banded glass acoustics
The sound privacy level depends on the quality of glass you opt for. The framed banding is best applied to our single glazed or acoustic glass. See our Acoustic Guide to compare the two options and decipher which best suits your needs.
Doors
Our Framed Glass Door is recommended for use with this product to stay in keeping with the industrial style.
Handles and locks are also an important choice to ensure continuity in style. See our Doors section for information and visuals of the different options available.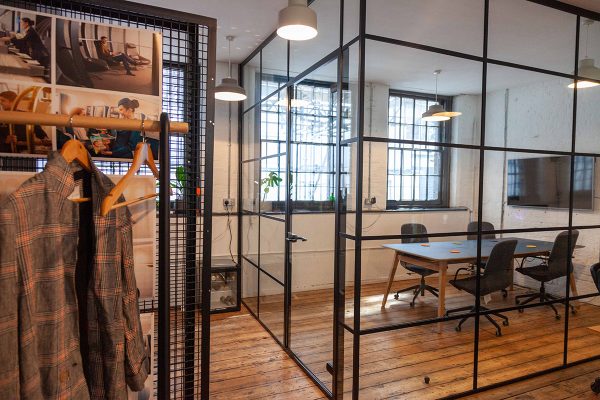 How much does banded glass cost?
This trendy look is slightly more expensive than our regular glass partitioning. The reason behind the greater cost is that the bars are installed as an additional fixing over the existing glass panels.
How can I achieve cheaper banded glass?
Prices for the finished product will vary depending on the original glass type chosen, i.e. if the banding is installed on single glazed panes, then this will be a cheaper option than double glazed, acoustic glass.
Another smart way to cut the cost of this product is to have the banding installed on one side of the glass only. For example, the banding might only be applied to the outside of the meeting room. From the inside of the room, the banding will not have such a prominent effect, but the overall look will be achieved.
For more information check out our FAQs, or call us on 0208 286 7072 to get your questions answered.