If you're looking for a simple way to divide new spaces in the workplace without breaking the bank, single glazed glass partitioning is the perfect solution. 
As one of our more affordable products, rest assured that quality isn't compromised. Our single glazed systems are a professional, high end solution to divide open plan offices, retail environments and even homes – simply without the price tag!
What Does Single Glazed Glass Look Like?
Single glazed glass partitioning complements nearly every environment. The transparency of the glass panes allows a healthy flow of light to illuminate newly divided areas, forming a spacious and airy environment.
Clean, contemporary and minimalist, we use toughened safety glass set in aluminium, 25mm slimline perimeter tracks (available in the standard colours: white, silver, dark grey or black). Once installed, you can expect a clear and seamless joint system between glass panes. This is what gives our single glazed glass partitioning a 'frameless' finish.
Whether a necessary requirement or a personal preference, we are also able to add custom frosted films and logos to the single glazed glass partitions with a choice of more standard patterns or even bespoke graphics.
A typical recommendation for most office partitions are 'DDA Dots' that, as the name suggests, have a dot pattern through the centre of the glass. Please note that these stickers, also known as glass manifestations, won't influence the performance or quality of your glass.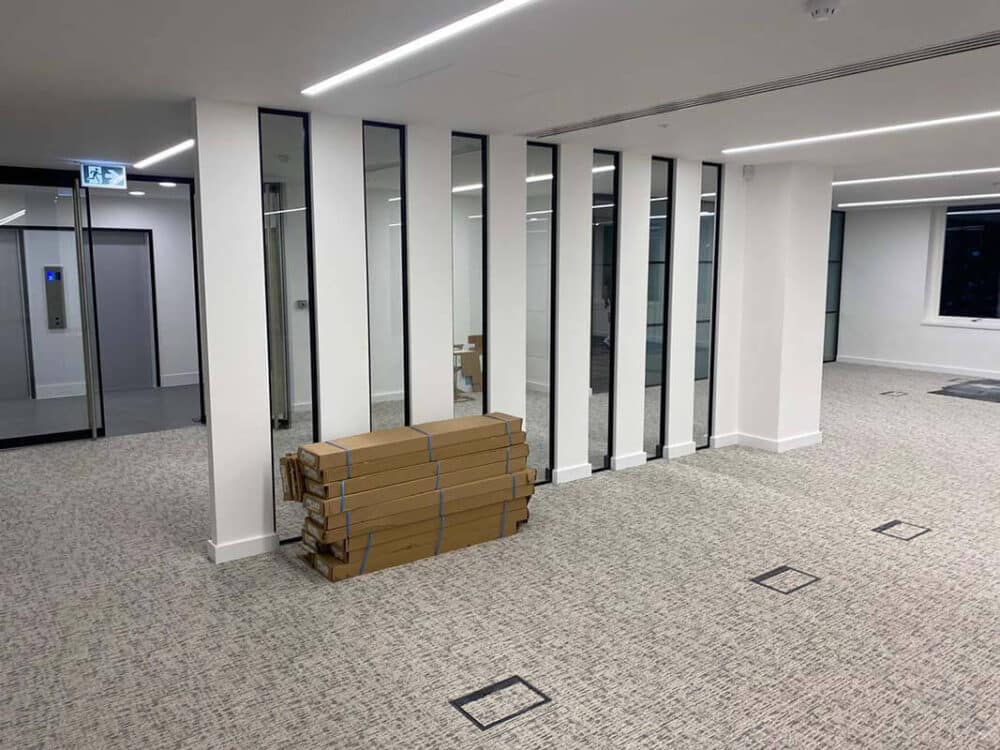 You can view our single glazed glass partitioning in situ by visiting our case study archives. Alternatively, if you are looking for framed glass partitioning, check out our Industrial Banded Glass.
The Important Details
Whilst one of our more affordable glass partitioning options, single glazed glass can still offer a range of benefits to many different workplaces, with key features including:
Glass panes are available in either 10mm or 12mm thickness.

Our experienced fitters can install your single glazed glass partitions with minimal disruption to your workplace.

When fixed, the single glazed glass panes can provide

sound protection of up to 33dB

. This level of acoustic performance prevents sound from penetrating through the panes, muffling voices but loud conversations can still be heard.

When partnered with our

acoustic glass

, these fixed partitions can benefit from

up to 37dB acoustic ratings

.
To add more privacy to your single glazed glass partitions, check out our blog. We've also put together an acoustics guide to help advise the best glass type suited to your requirements.
Acoustics Guide
| dB Rating | What this means | Where it could be used |
| --- | --- | --- |
| Up to 33dB | Loud speech can be heard, normal level talk is hard to interpret | Standard offices, small non-confidential meeting rooms |
What About Single Glazed Glass Doors?
To accompany your single glazed glass partitioning, we have a range of glass doors available. We recommend pairing your new glass walls with a frameless glass door, made from a single glazed sheet of glass, to complement the seamless finish.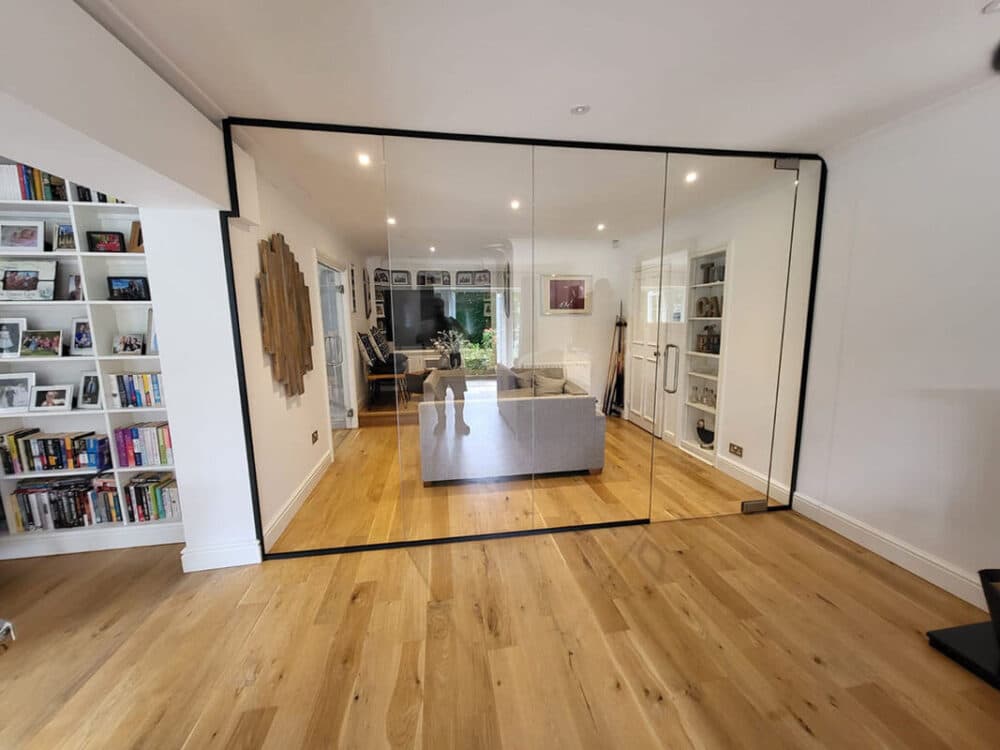 Like what you see? If you're considering single glazed glass partitioning for your workplace and need help from a professional team you can trust, get in touch with GPUK today! You can discover more on what to expect from your GPUK installation to see how we work effectively to deliver high quality glass solutions.
To receive an instant quote for our single glazed glass partitioning, try our free online tool below.