Curved glass partitioning is one sure way to create a workplace that leaves a lasting impression. As one of our premium products, curved glass can be used to form unforgettable design features and set your office apart from the rest.
At Glass Partitioning UK, we are also able to offer faceted glass partitions as an affordable alternative. These glass walls require less of an investment than our curved glass partitions, but still offer the illusions of curves to achieve that sleek and sophisticated look.
Curved Glass VS Faceted Glass: What's the Difference?
Curved glass office partitions are more complex than our standard, straight glass partitioning solutions. The glass panes are curved, perfect to fit around slightly trickier workspaces or be used to create centre design pieces in the office.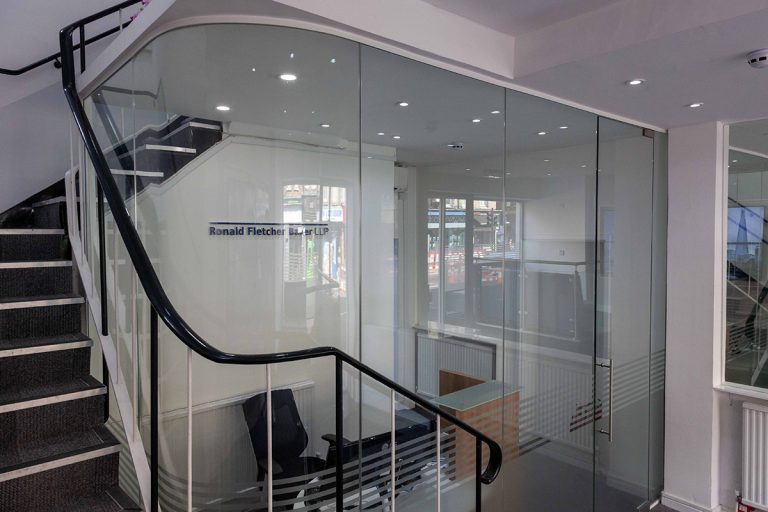 When it comes to installation, curved glass walls are more complex, however our team of fitters have years of experience for a smooth installation process. Before your glass partitions are manufactured, the radius of the curve needs to be established. We can then ensure that the accompanying aluminium head and base tracks are made so the curved glass panes can accurately be installed into them.
As our affordable 'curved' option, we offer faceted glass partitioning. Aside from the price, these differ from curved glass as they consist of straight partitions, fixed together at an angle so they curve in. Once installed, these give the desired 'curve' illusion to form elegant office features and divide sophisticated work zones.
The Important Details
Deciding between our premium curved glass walls or faceted glass partitioning will depend on your budget requirements and preferred design. Both partitioning solutions offer the following features:
Install your curved glass dividers with our

single glazed glass partitioning

for a sleek appearance.

Both options are installed into head and base tracks, available in a variety of colours. Our more popular options include: White, Silver, Dark Grey and Black.

We offer both curved glass partitioning and faceted glass partitioning options to suit your budget!
For help deciding the best option for your project, please don't hesitate to get in touch for our expert's advice.
Benefits of Curved Glass Partitioning
Design 
Our curved glass partitioning is known for its design opportunities. The curve of the glass panes can soften interiors and create a welcoming environment that supports staff and visitors however they may be working. The versatile style looks great in corporate offices, as well as more creative work environments.
Wellbeing
The shape of curved glass can go as far as impacting the wellbeing of your staff. Along with creating an inspiring workplace that motivates employees, the organic curve impacts the psychology of your workforce. A softer shape can be relaxing for staff, creating a friendly and comfortable space for them to work.
Installation 
Whilst curved glass partitions follow a more complex installation process, we have over 25 years of experience fitting the trickiest glass partitioning projects! Our installation team are dedicated to completing your project as efficiently as possible, causing as little disruption to your workflow as we can. If your workplace has a unique shape, we have many solutions to overcome this. For more information, please read our glass partitioning installation blog.
If our premium curved glass partitioning fits the groove of your business, contact our experts today. Along with more information on our faceted glass partitioning option, our friendly team can advise on the best solution for your space, budget requirements and any other questions you may have.