With over 20 years experience in the glass partitioning industry, we have encountered a few challenging workplaces in our time – and still do! At Glass Partitioning UK, we love to create unique glass projects that transform spaces, no matter how bespoke their shape may be.
Our team are fully trained experts in the field, meaning they have a few tricks up their sleeve when it comes to any problematic areas they might face during installation. If you wish to create exciting new areas in your workplace using glass partitions, but are worried about the unusual shape of your office, get in touch with the team. Combining our skills and experience with our hunger to learn, we can source an appropriate solution that's attentive to the needs of your space.
Sloped Ceilings
A common challenge the team often faces during installation is uniquely shaped ceilings. From slopes to harder angles, to ceilings with pre-existing utilities that might obstruct installation, here's a few ways we overcome challenging ceilings:
Raking is when our glass partitions are cut to a specific angle to slot into the shape of an uneven surface. For example, some projects we've encountered have pre-existing ceilings that come down at an angle, along the area where the glass partitions need to be installed.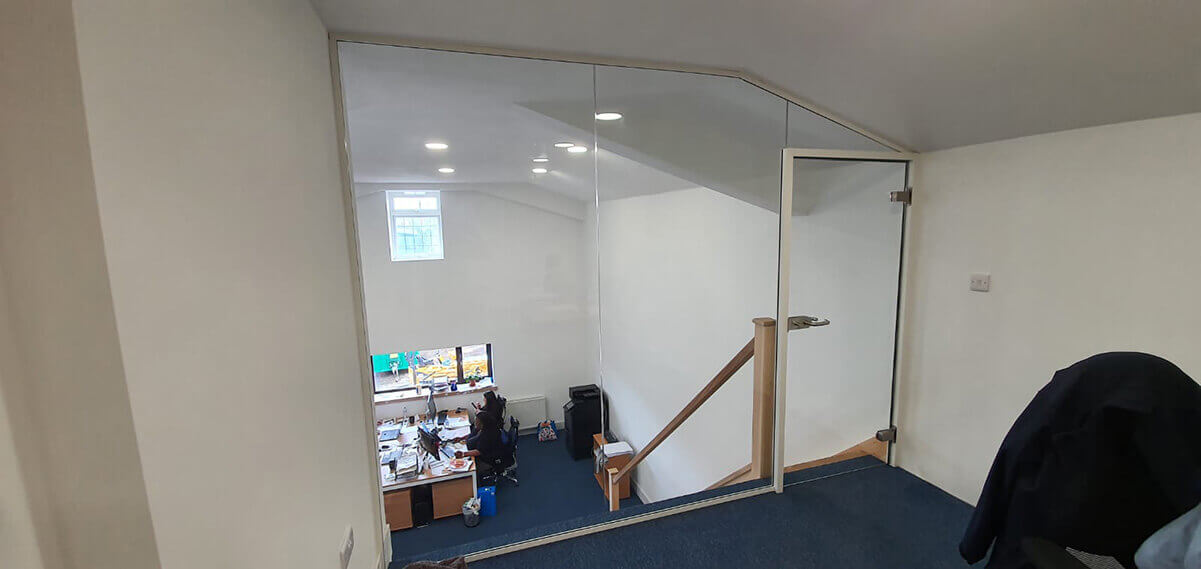 For these projects, our team ensure accurate measurements are taken throughout and after all prior work has been completed. Once the glass partitions have been raked to their correct shape, they are installed with a seamless finish to the surrounding partitioning, creating the same sophisticated glass office dividers without compromising on strength.
Typically, bulkheads are created prior to any installation. They are an effective solution for many bespoke ceilings where glass partitions are to be fitted; they can reduce the height of a ceiling, make edges straighter or infill any gaps so the process of fitting the glass partitions is seamless. They can even cover ceiling lights or bars that might be in the way during installation, securing your glass partitioning from above!
Trunking is used to cover unsightly utilities such as wires and cables that are necessary in the workplace. Whether these run along the floor, ceiling or sides of the wall, they can seem challenging when installing glass partitions. Once our team have taken this into account, we are able to specially cut the glass panes to make allowance for these and ensure the glass partitions are still professional and of high quality.
Flooring
If you've decided to install glass partitioning into your workplace, chances are you might be updating other areas in the office too. For spaces undergoing new flooring, we are able to install glass partitions both before and after it has been fitted. All you need to do is ensure our team is aware so that our installers can make necessary allowances during the manufacturing stage.
In cases where flooring is to be fitted after the partitioning, our fitters will typically ensure a 5mm to 10mm allowance is made. This is especially significant for projects that require glass doors as it's important that it can open smoothly across flooring or carpet – if it's too thick after installation, the door is likely to stick!
For the smoothest glass partitioning installation process, we advise that any flooring is installed first to ensure our measurements are as accurate as possible.
Curved Glass Partitioning
As one of our many glass partitioning types, we offer curved glass partitions to our clients. Whilst primarily these partitions are popular for their bespoke designs and impressive appearance, they can also be used to optimise the use of space.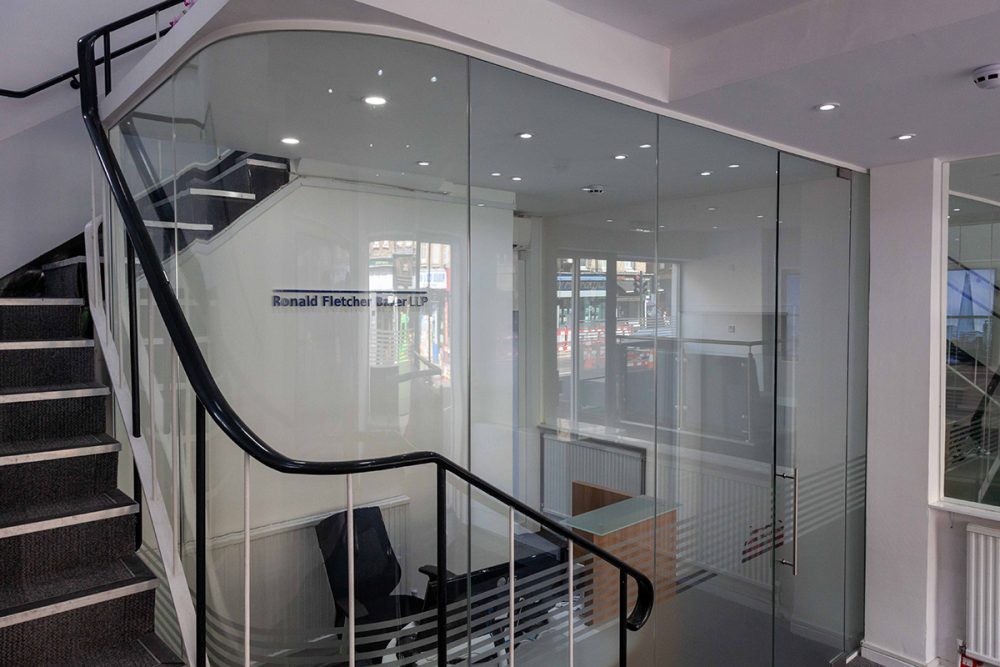 Take this case study for example; to make maximum use of space in the office, curved glass partitioning was fitted as it followed the form of the existing staircase to suit the shape of the office, as well as creating an impressive and unique design feature.
Glass Solutions From Glass Partitioning UK
At Glass Partitioning UK, we love a challenge. If you have a tricky office environment or unique space, don't hesitate to get in touch with the team. We provide instant, free quotes and site visits to ensure we take accurate measurements and provide the best, shatterproof solutions for your space.